Event Details:
Click on the image below to enlarge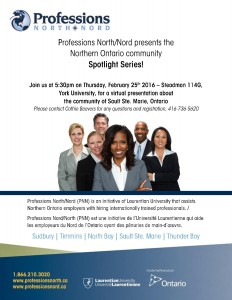 Professions North (PNN) is an initiative of Laurentian University that assists employers with labour shortages, and internationally trained professionals (ITPs) in finding employment in Northern Ontario at no cost.
Join the IEP team as we conference in with representatives from PNN. They will be highlighting current job opportunities up north and providing an overview of the community that they are located in.  Some of these include:
OLG - Change Management Office Consultant
OLG - Procurement Analyst
OLG - Senior Manager, Strategic Value Management
City of Sault Ste. Marie - Risk Manager
Sault Ste. Marie Innovation Centre - Business Analyst
RBB Innovations - Platform Architect
Gain a solid understanding of what life and work would look like if you chose to apply - consider making the move to one of Ontario's beautiful northern cities.
Event Time and Date:
TUESDAY, FEBRUARY 25th from 5:30 - 6:30PM in Steadman 114G. 
How to Register:
Please send an email to Cathie Beevers at beevers@yorku.ca
Quote "PNN Registration" in the subject line and your name, student number, and cohort in the body of the email.